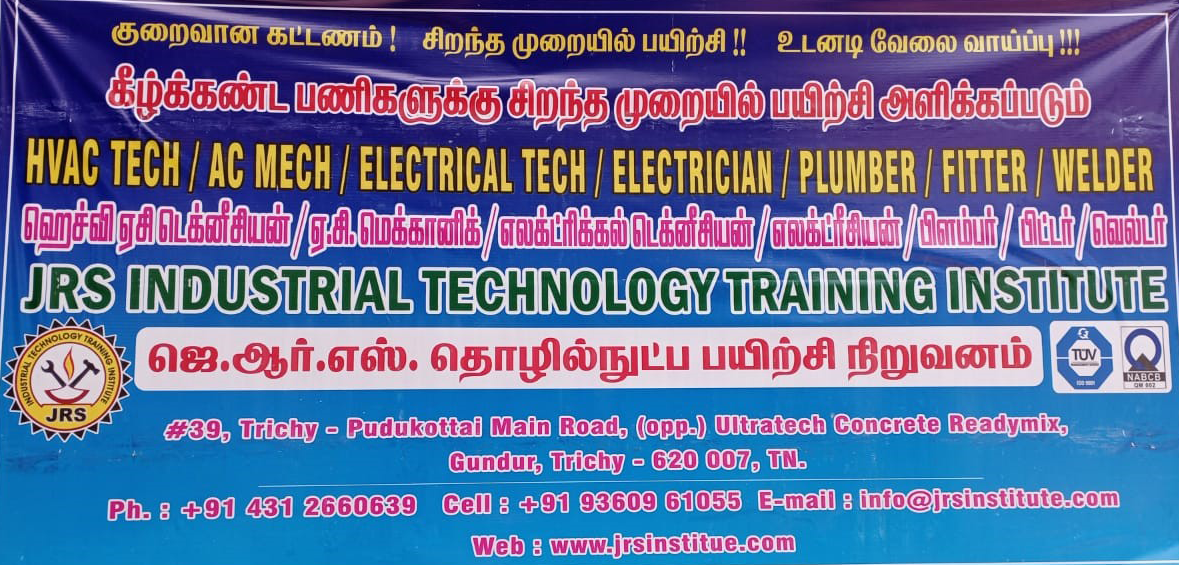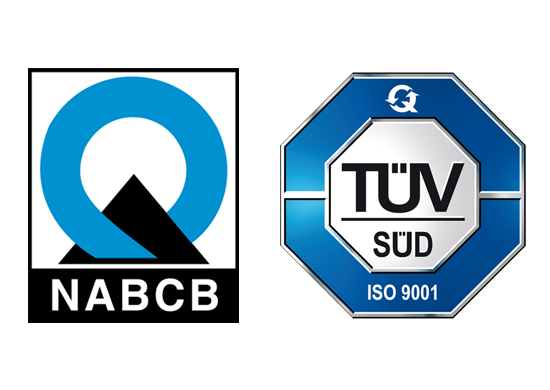 JRS industrial Technology Training Institute is a premier, dynamic, vibrant professional training centre actively associating itself in the industrial and trade development of the overseas employment. JRS ITTI was established in 10th October 2008, it is centrally located nearby airport at Trichy in State of Tamilnadu. As we have dedicated ourselves by providing the essential services required by every employer and overseas recruiting agencies.
JRS ITTI is fully design internationally and nationally accredited Training Centre specializing in various clients focused training and associated services like manpower facility to diversified overseas countries. JRS ITTI is well planned infrastructure with adiqute tools, machines, equipments and materials rarely found in any other testing centre. Excellent testing and interviewing facilities are offered here covering each and every trade. We are committed to delivering quality and world class service to our clients.
We also offer various training across a wide range of specialties to serve the national companies through providing a unique training and manpower facility as contract and permanent employee in various industries. The Company have desire to promote greater understanding and enhance future career development.
All Round Mason
Mason Tiles Laying
Refractory Mason
Steel Fixture
Construction Labour
MECHANICAL AND WELDING TRADES
A/C Technician
Pipe Fitter
Structural Fabricator
Rigger
Spray painter
Industry Electrician
Auto Electrician
Cable Jointer
Domestic Electrician
Line Man
Furniture Carpenter
Aluminum Fabricator
Painter – Roller
Finishing Carpenter
Furniture Polisher
Mobile Crane Operator
Excavator Operator
Fork Lift Operator
Light Duty Driver
Hydraulic Mechanic
Describes the organization's purpose and its overall intention. We strive to offer our customers the lowest possible prices, the best available selection, and the utmost convenience. Your Satisfaction is the only thing that matter to us
Provides insight into what the company hopes to achieve or become in the future. The values statement reflects the organization's core principles and ethics. I will behave in a manner so as to become a light, not a roadblock, for others who choose to follow or lead me
CIVIL
The best way to find out if your customers are happy is to ask them by conducting regular construction market research. The benefits of conducting a construction specifier satisfaction survey are: It enables fact-based decision making. improves specifier loyalty by providing good service where it matters.

MEP
You strive for excellence providing us with heating, cooling, Plumbing and electrical trained persons.
With clear communication about what issues we're facing and what maintenance is needed, you will provide us  with solutions to all of your HVAC, Electrical & Plumbing problems.
We could tell you how courteous and helpful your trained persons is,  we'll tell you hear it from real customers.

WELDING
Few fundamental rules are there for any aspiring our selves. It is not just to start a welding trained persons but to make strategy and a strong foundation for success.The welding needs are enormous across the world any day. Wherever in the world, your trained persons  the basic principles to succeed remain relevant.You may be a great service to the customer and have a good client list in your profile .  Your Service essentials include the support of others in the pursuit. You can start your effort lacking in one of these zones, and may have great success even.
